Every day, schools, colleges and universities are switching from a static board to a digital one to inform, educate, and alert activities. of the school to students and stakeholders. This information channel is mainly deployed in the old news area of the school, high-traffic areas such as the cafeteria, classroom, library and corridor area, the school's communication channel is the bridge between students with schools and departments.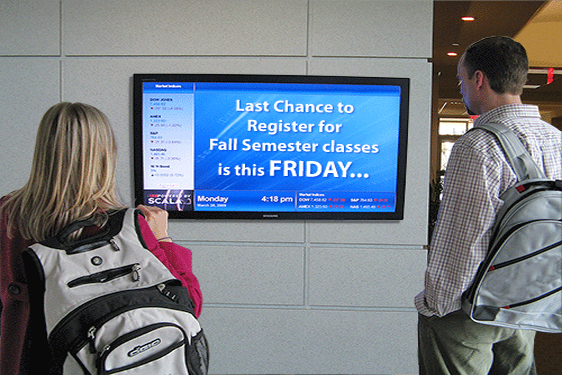 +EChannel channel content:
Scholarships of students-students of the school, scholarships of other units
Information about excellent students, achieving high results in study, training and other activities (Union, Party team, Sports, culture, ….) of the school</li >
Information about study schedule, change schedule, types of documents
Information about school activities
Information  about the school, the team of Professors, Assoc., Honorable Mentors
Information about businesses that have signed with the school on jobs for students
Information about part-time jobs for students, about recruitment of enterprises
The contact address between the business and the school helps businesses easily access the school
Information about lecturers, staff, security guards, library
Information about undergraduate, graduate, 2nd degree, …
Information about exam schedule, study outline
Schedule to borrow textbooks, register for credits, …
School's plan, school's diplomacy
School-related, cultural, recreational, and cultural activities
Datastore for students, students, teachers to exchange, learn, share, ….
Recruitment Channel
Scientific Research Project
Please see moreDemo here:
For detailed information about Solutions and Products, please contact: sales@vds.vn or HL: 0986.077.868
Thank you for reading!